One on one with Kyle Swanston
2013.01.17. | propartnersports.com
January 16. 2013 – Pro Partner Sports recently sat down with Kyle Swanston, the Kittitian-American import player currently playing for Kaposvari KK in the Hungarian A Division. Swanston opened up about life in Hungary, his domestic teammates, and his surprising sneaker collection.
Pro Partner Sports Management (PPSM): You played last season in Japan in the bj-league for the Akita Northern Happinets. At this point, you're 16 games into the Hungarian season.  What are the biggest differences you've noticed between the style of ball in Europe vs. Asia? 
Kyle Swanston (KS): In Asia the style of play was much faster and could be described as being a little more out of control.  The Happinets played a very unorthodox style, so I'd have to say that it's pretty easy for me to notice the differences.  The European game is more about thinking and making the right decisions, as opposed to being more interested in the flashy aspects – three pointers and dunks – over in Asia.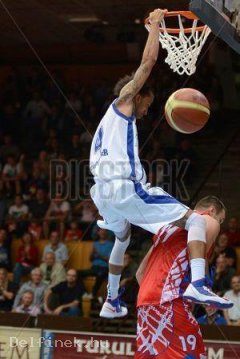 PPSM: At 12-4, Kaposvari trails only Albacomp in the A Division.  What is it going to take to move into first place?
KS: In this league the top 5 or 6 teams are very evenly matched. Albacomp is a very strong team, but they have also benefited from having all of their home games in the first half of the season due to scheduling issues.  With that being said, we will need to really focus on winning the rest of our games so we can move into first place.   Our guys are hard workers and are really determined to move up in the standings.

PPSM: What are your opinions on the Hungarians?  Do you feel a lot of support from the fans? What about your domestic teammates?
KS: I remember our first game had only 100 or so fans. Now in second place we pack the gym to standing room only and the love is great!  As with any club, you need to give the fans what they want to see, and win games in the process.  Walking through the street I get stopped and asked to sign autographs or take photos all the time.  Hungary is a great country for basketball and it can only grow with Adriatic league play and Eurochallenge wins.  The Hungarian players are great people — very nice and they'll do whatever it takes to win.  Among the hardest working teammates I've ever had the pleasure of playing with.

PPSM:  We've seen tons of photos of you as a high-flyer, but you're also shooting 40+% from 3 point range.  How would you describe your offensive style play? 
KS: I was always taught to take what the defense gives me.  For example, in the case of last night's game (vs. PVSK Pannon), they tried to press up on me and keep me from drilling them with 3′s, I went to the basket and ended up at the free throw line.  Taking what the defense gives you also helps with your percentages and keeps you helping your team to win games.

PPSM:  With the numbers you've put u this season you've really raised your stock in the international basketball market.  What are your plans for the future?
KS: My plans for the future are, and have always been, to play basketball at the highest level and the best league that I can possibly get to.  I will go as far as my game will take me.  It always helps to play on a winning team and be surrounded by good people.  It helps to make myself known in the country and league to get the exposure necessary to move to the next level.

PPSM:  Rumor has it that you're an avid sneaker collector.  How many pairs do you own?
KS: I must admit that I have a shoe addiction.  I'd say I own somewhere around 80 pairs at home and abroad.  I haven't changed shoe sizes for about 7 years, so they have all just accumulated.  Most of them are collector shoes.  I only get 4 or 5 months out of basketball shoes, then it's on to the next pair.
Source: http://www.propartnersports.com/2013/01/16/one-on-one-with-kyle-swanston/
SOCIAL MEDIA
KÉPGALÉRIA
STATISZTIKÁK